And on Fridays, we confess!
I'm freaked out by all this horse meat being found in
meatballs
and
tacos
. It's a great example that you never truly know what's in your food, unless you're buying and making it yourself. I'm always side eyeing fast food and frozen food because you just don't know if it's really what the label wants you to think it is. Pink slime anyone? If that's what you enjoy eating, go for it. But if you think you're eating cow and you're actually eating horse, that's a little icky.
Last night my husband fixed something on my phone that had stumped me for weeks. He clicked two things and it was all fixed. He was overly proud of himself, considering I'm supposed to be a professional when it comes to these things. Whoops!
I'm getting really into this tea drinking thing. I bought an herbal tea sampler and I've tried three out of five teas. My favorite so far is Honey Vanilla Chamomile. I'm steeping a peppermint right now and it smells very promising.
I'm actually not going to be watching Downton Abbey this weekend! Well, I probably won't. :)
I need to look into buying a lunchbox for work. This is not cute.
But at least it's cheap.
I'm going to try really hard to sleep in tomorrow but for me sleeping in usually means I'm up at 7 AM instead of 6:30 AM. How exciting!
That's all I've got.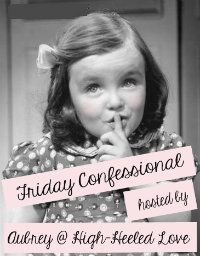 Feel like joining in? Go see Aubrey at High-Heeled Love!