By the time you read this, I'll already be out frolicking in the Charleston sun.
Just kidding, I'm not hanging out in Charleston for fun. I'm taking SIL on a field trip! A
math
field trip! Super exciting.
I may or may not go back to
Metto
for a honey latte...
I did pretty good eating this week. Healthier things, less bad things. But I sucked at the whole exercise thing.
I'm falling asleep as I write this. Busy around here lately.
This weekend's going to be full of math again! Even outside of the field trip. Lots o' algebra to do. We're starting probability in the next unit. Yay!
I'm determined to get some bubble tea sometime this weekend.
I'd also like to do a lot of sleeping.
I've got my priorities straight. Sleeping, tea/coffee, math. Woo.
You get no pictures because I'm tired. Sorry. Go check
my Instagram feed
for puppies and Sriracha chips and a crazy picture of tiny Carrie.
Now, put "I confess" in front of each of the above sentences and you've got yourself another Friday Confessions post!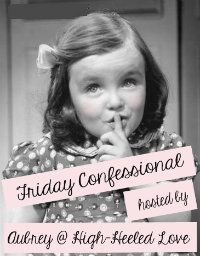 Go see Aubrey to link up your own post!
Y'all have a great weekend, now, ya hear?