Hello, February!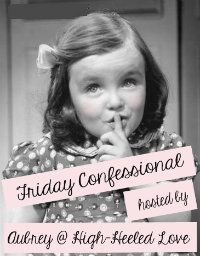 Fridays are confession days. It's good for your sanity!
Today I confess:
We started a new show last night! Our last show, Jericho, didn't take long at all to finish up. Poor thing is a measly two seasons (well, one and a half...). It cut me deep in those few little episodes.
I'm ready for a morning sans alarm clock. It's been a busy week and I'm ready for some extra sleep!
I'm going to attempt to make kale chips this weekend. It seems like the easiest thing in the world to do but I'm still worried I'll mess something up.
I feel like I'm really getting into this blogging thing. :) I'm posting fairly regularly and having some good conversations with people. I hope you're getting something out of following me. I appreciate you all!
I'm too disgusted with Printerpix's interface to use the Groupons I bought a year ago (ish) for leather bound picture books. I was going to make books of wedding pictures but I just can't handle the bugginess in this system! These are some seriously ugly layouts. What a waste of money.
TOO UGLY
What are your confessions today? Head over to
High-Heeled Love
to get them off of your chest. Have a great weekend!