Fridays
Saturdays are for confessions!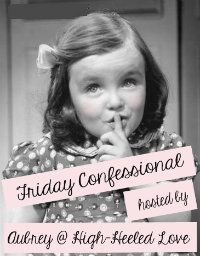 I confess...
I'm so tired! Work's been busy and in my spare time I'm helping my SIL with her Algebra 2 class. She goes to a virtual high school in SC and I'm what they call her Learning Coach. She's an awesome student, though and rarely needs any extra help to excel. We've been hitting the
books
laptops (virtual, after all) hard every night this week to get caught up and it's paying off big time! She just aced her test on rational functions.
I may be more excited than she is about this. :)
We are doing more math today but it'll be fun!
I'm a total nerd. Remember?
While SIL is at our place, we've been catching up on
Once Upon a Time
. I've become emotionally invested in these characters lives. We're still in the first season but I can't stop watching. I started the show because I love Jane Espenson (one of the writers/producers; worked on some of my favorite shows like
Buffy, Battlestar Galactica
) and Ginnifer Goodwin (loved her in
Big Love
). There are tons of great guests that you'll recognize from other shows.
It's like all of the fairy tales you grew up with have grown up with you.
I can't not take a picture if the sky is looking awesome.
I should probably learn to watermark my pictures soon...
I've only had one cup of coffee in the past week! How crazy is that? I've been trying to lower my caffeine intake and nixing coffee is my first step. I've been having tea & ibuprofen instead. Caffeine withdrawal pains are no joke!
I'm halfway through the weekend and have spent most of my time doing responsible things -- cleaning, tutoring, etc.
Time to find some fun!
---
Hope everyone has a great weekend. :)